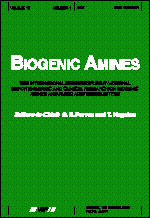 International Journal of Stress and Neuroprotection

Editor-in-Chief:

S.H. Parvez
CNRS, Neuroendocrinologie & Neuropharmacologie du Développement,
Institut Alfred Fessard, Bât 5,
Parc Chateau CNRS, 91190 Gif Sur Yvette,
France
Honorary Editor:

T. Nagatsu
Toyoake, Aichi
Japan
Deputy Chief Editors:

M. Minami
Department of Pharmacology,
Faculty of Pharmaceutical Sciences,
Health Science University of Hokkaido,
Ishikari, Tohetsu, Hokkaido 061-0293,
Japan
Tel: +81-1-332-3-1211; Fax: +81-1332-3-1669
S. Parvez
Laboratoire de Neuroendocrinologie,
Université de Reims, UFR-Sciences,
Moulin de la Housse, B.P. 1039, 51687 Reims Cedex 2,
France
Tel: +33-3-2691 3286; Fax: +33-3-2691 3286 & +33-3-2691-3439
The aim of Biogenic Amines is to meet the demand for an internationalinterdisciplinary journal integrating the publication of all aspectsof research on biogenic amines and amino acid transmitters, theirrelating compounds and their interacting phenomena. The journalfulfils this aim by publishing regular research papers and shortcommunications.
Biogenic Amines welcomes submissions of papers which report originalresearch data on catecholamines, serotonin and interacting compounds(amino acids, peptides, acetylcholine, phenol amines, histamine,polyamines and other biologically active amines). Papers from bothbasic research (methodology, histology, neurochemistry, biochemistry,enzymology, receptor studies, pharmacology, physiology andendocrinology) and from clinical research (neurology, psychiatry,cardiovascular studies, internal medicine, gynaecology, immunologyand oncology) will be considered.
---
ISSN 0168-8561
E-ISSN 1569-3910

Indexed/Abstracted in:
Biochemistry & Biophysics Citation Index; Biological Abstracts;BIOSIS; Chemical Abstracts; Chemical Industry Notes; Chemical Titles;Current Contents/Life Sciences; EMBASE; Exerpta Medica; Index toScientific Reviews; Inpharma Weekly; ISI BIOMED; Neuroscience CitationIndex; Nutrition Abstracts and Reviews; Reactions Weekly; Research Alert(Philadelphia); Science Citation Index
Subscription data 2005 (all prices are subject to change without notice):
Volume 19 in 6 issues

| | | | |
| --- | --- | --- | --- |
| Institutional rate: | EUR 483 | US$ 604 | (print+e) |
| Individual rate: | EUR 483 | US$ 604 | (print+e) |
| | | | |
| --- | --- | --- | --- |
| Institutional rate: | EUR 435 | US$ 544 | (e-only) |
| Individual rate: | EUR 435 | US$ 544 | (e-only) |